Book Early and Save on 2018 Cruises on American Queen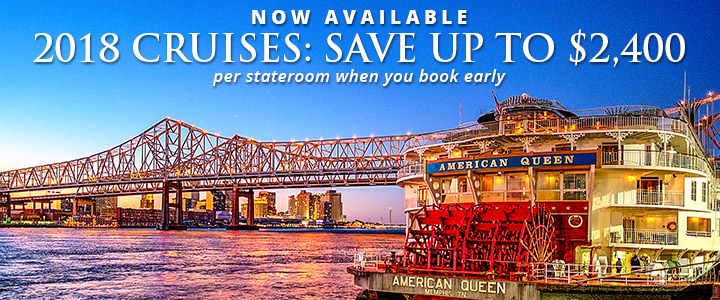 A voyage with us is more than a river cruise to iconic cities and quaint small towns - envision it as being one of mind, body and soul. Each day and evening lends the opportunity to delve into the dramatic history and culture of the regions in which we travel, exposing you to an experience unlike any other.

Prepare for an unforgettable journey as we guide you through authentic America with our variety of popular itineraries visiting New Orleans, Memphis, St. Louis, St. Paul, Chicago and Portland, in addition to exciting new itineraries featuring a return to Pittsburgh and Cincinnati.
Contact your travel professional to experience an adventure on the American Queen!
NEW for 2018:
LOUISVILLE TO CINCINNATI

Louisville, KY - Madison, IN - Louisville, KY - Brandenburg, KY - Owensboro, KY - Louisville, KY - Cincinnati, OH

Celebrate the Kentucky Derby in appropriate style as you glide along the Ohio River aboard the lavish American Duchess discovering an abundance of time-honored traditions and wonderful new surprises at enchanting...

Voyage Date

April 29

Theme

Derby Cruise

Vessel

American Duchess
CINCINNATI TO MEMPHIS

Cincinnati, OH - Madison, IN - Louisville, KY - Brandenburg, KY - Paducah, KY - New Madrid, MO - Memphis, TN

Learn what makes a centuries-old tradition as uniquely American as our river cruises with this rare opportunity to experience an extraordinary journey through America's Heartland and into the roots of Kentucky's bourbon...

Voyage Date

May 6

Theme

Bourbon

Vessel

American Duchess
LOUISVILLE TO PITTSBURGH

(and reverse)

Louisville, KY - Madison, IN - Cincinnati, OH - Maysville, KY - Point Pleasant, WV - Marietta, OH - Wheeling, WV - Pittsburgh, PA

Uncover America's bucolic heartland as you travel the tranquil waters of the Ohio River from Louisville to Pittsburgh, the iconic city where names like Carnegie and Bessemer created the steel-making capital of the world...

Voyage Dates

July 8

July 15

Theme

Return to Pittsburgh

Vessel

American Queen
NASHVILLE TO CHATTANOOGA

(and reverse)

Nashville, TN - Dover, TN - Florence, AL - Decatur, AL - Chattanooga, TN

These special themed voyages cruising past the vibrant colors of the land along the waters of the Cumberland River, will allow you to enjoy a Thanksgiving on the Cumberland OR our popular Civil War themed cruise...

Voyage Dates

Nov. 18

Nov. 25

Themes

Thanksgiving on the Cumberland,

Civil War

Vessel

American Duchess
ST. LOUIS TO RED WING (MINNEAPOLIS)

St. Louis, MO - Hannibal, MO - Clinton, IA, Prairie du Chien, WI - Winona, MN - Red Wing, MN

Fall in love with the Heartland on this NEW itinerary for the American Duchess. There's no better place to begin a journey through America's Heartland than lively St. Louis, " The Gateway City," and ends in Red Wing (Minneapolis).

Voyage Date

Aug. 26

Theme

America's Heartland

Vessel

American Duchess